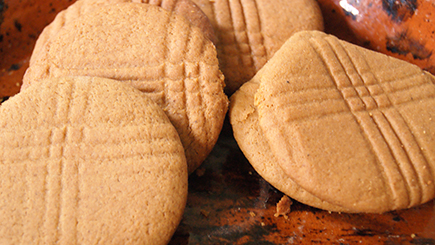 INGREDIENTS:
1 lb. Lard melted 
2 cups Molasses
2 cups Sugar (Cream together add cool lard)
2 Eggs
2 Heaping teaspoons soda, dissolved in 1/2 cup of hot water.
2 teaspoons Ginger
2 teaspoons Cinnamon
1 teaspoons Cloves
1 teaspoons Allspice
1 teaspoons Salt
8 to 10 cups Flour (Best if left overnight)
DIRECTIONS:
Mix dry ingredients into soft mixture forming a dough you can handle. Roll out on floured board cut into cookies and bake 350 degrees approximately 10 minutes.