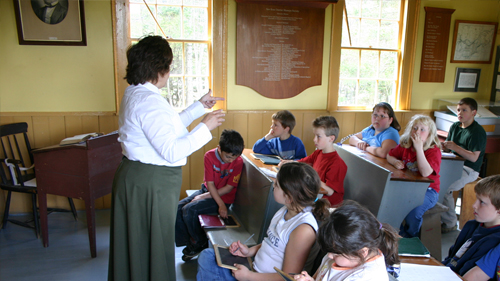 Ross Farm Museum; Nova Scotia's Living Museum of Agriculture offers an exciting hand-on program where children have the opportunity to perform many different tasks, which involve many of the daily chores, on a 19th century farm. Children will learn practical things, from days gone by, so they can distinguish the relationship between themselves and the early setters. By using hand tools, wood fired stoves, or a coal fired forge, students can create their own images of life before modern conveniences, powered by electricity. The experience produced will be a very enjoyable one with memories lasting a life time.
At present, the museum offers eight different hands-on programs. Each of these educational tools will be described briefly, to assist students in making their decision in which program they would like to take part in.
Whatever hands-on workshop you choose:
All participants including students, teachers, and parents will find it to be a very enjoyable and educational experience.
Let Ross Farm serve you with this unique opportunity for hands-on learning.
Enjoying education, while learning this real, living history experience will support classroom discussions on the early settlers in Nova Scotia.
Please Note:
Approx. 10 students per workshop
Each workshop lasts 1.5 -2 hours
Schools must book in advance
Cost: $5.00 per student per workshop or double workshop $8.00
Wagon Ride: $0.50 per student