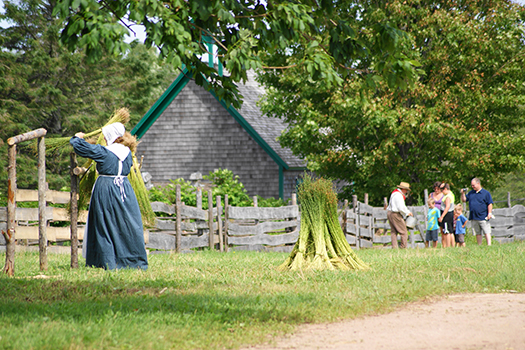 Experience Hands-on Heritage!
At Ross Farm Museum step back in time and experience life as it once was in rural Nova Scotia. Using heritage skills, animals and tools we continue to operate the farm of Captain William Ross who settled in New Ross in 1816 with his family, and 172 disbanded soldiers. Our knowledgeable interpreters can be seen performing the same daily tasks that was once a way of life for many folks in rural Nova Scotia. On any given day you can witness farmers working in the fields with oxen, the blacksmith hammering on glowing hot steel and the ladies in Rosebank Cottage preparing delicious biscuits, just to name a few. Visit us today and immerse yourself into the history of rural Nova Scotia! Learn More...
August 7th, 2016 is the 200th Birthday of the settlement of New Ross.
Come and join the guests at Rosebank Cottage to celebrate the past and enjoy an old-fashioned tea party from 2:00 - 4:00 p.m. Visitors are invited to dress in costume and take part in a tea party outside Rose Bank Cottage. There will be refreshments & entertainment for all to enjoy. Read more...
For additional information:
Joan Lenihan
1-902-689-2210
1-877-689-2210
rossfarm@novascotia.ca
​
2016 marks the 200th Anniversary since Captain Ross, his wife Mary and four children, and 172 disbanded soldiers settled the community of New Ross. To celebrate this milestone organizers have planned a host of wonderful events each month around the community, highlighted by a founding weekend-long celebration from August 5-7, 2016. Visit www.newross.ca for more information or click here to download the event shedule.
Please note on August 6th, 2016 the New Ross - 200th Anniversary parade will be taking place on highway #12 alongside Ross Farm Museum, traffic will be detoured around Lake Lawson. The road will be shut down from 12:30pm - 2:30pm and there will be no traffic in or out of the museum during that time.
Connect with Ross Farm on social media!

Contact
Ross Farm Museum
4568 Highway # 12
New Ross, NS B0J 2M0
Call: 902-689-2210
Toll Free: 1-877-689-2210
rossfarm@novascotia.ca

Hours & Admission
Hours
Open Daily
9:00am - 5:00pm
Admission
Adult $8.00
Senior (65+) $6.00
Students (with Student Card) $6.00
Child (6-17 years) $3.00
5 & Under Free
Family (max. 2 adults) $20.00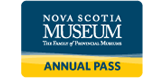 Unlimited Visits
Come for an hour or stay for the day.  The choice is yours with a Nova Scotia Museum Annual Pass.