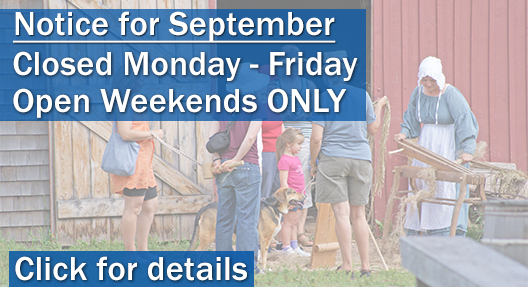 Experience Hands-on Heritage!
At Ross Farm Museum back in time and experience life as it once was in rural Nova Scotia. Using heritage skills, animals and tools we continue to operate the farm of Captain William Ross who settled in New Ross in 1816 with his family, and 172 disbanded soldiers. Our knowledgeable interpreters can be seen performing the same daily tasks that was once a way of life for many folks in rural Nova Scotia. On any given day you can witness farmers working in the fields with oxen, the blacksmith hammering on glowing hot steel and the ladies in Rosebank Cottage preparing delicious biscuits, just to name a few. Visit us today and immerse yourself into the history of rural Nova Scotia! Learn More...
Join us this weekend, Sept. 20th and 21st as we invite families back to come harvest their pumpkins that they planted way back in the spring. As an added bonus the Atlantic Canadian World War 2 Living History Association will be here all weekend with a WW2 encampment set up! More details...
​
Support our Learning Centre!
Find more details about our exciting new project including how to donate by visiting the Learning Centre Campaign page or make a contribution immediately by clicking on the donate button below.
Connect with Ross Farm on social media!

Contact
Ross Farm Museum
4568 Highway # 12
New Ross, NS B0J 2M0
Call: 902-689-2210
Toll Free: 1-877-689-2210
rossfarm@gov.ns.ca  
Consulting Opportunity Available - Click Here

Hours & Admission
SPECIAL NOTICE
OPEN WEEKENDS ONLY IN SEPTEMBER
Summer Hours
May 17, to October 20
7 Days a Week
9:30am - 5:30pm
Admission
Adult $6.00,
Senior (65+) $5.00
Child (6-17 years) $2.00
5 & Under Free
Family (max. 2 adults) $15.00
Group rates