Horse Teamster Training Programme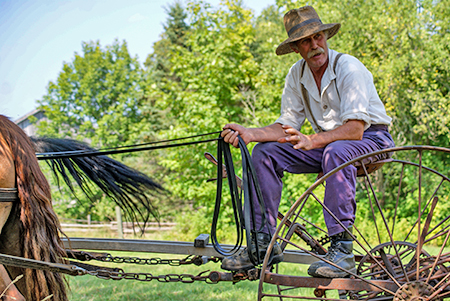 Instructors: Lyndon Daniels and Wade Corkum
The horse. Energy-efficient, natural power. For millennia people have harnessed this strength to perform the heavy lifting in human society, enjoying the benefits of a life-cycle approach to farming that allows the individual, family or community to live with a relative degree of independence from the complexities of global trade and energy dependency.
To support and continue this tradition, Ross Farm offers theoretical and hands-on training in the fundamentals of small farming with horses.  Our training weekends are designed to offer the future horse teamster a deep understanding of how to get the most benefit to the farm by implementing a well-planned, well-managed horse programme that focuses on the horse as an active partner in farming.  Our training modules will take the future teamster from the basics to the intricacies of seasonal equipment over the course of the farming seasons.
Fundamentals -  Introduction to Care and Handling
Weekend 1:
Housing and spaces, pasture, feed and hay storage
Socialization and Interaction, reading behaviour
Responsibility and liability, insurance
Weekend 2:
Feeding – types of feed and feeding process
Cleaning and grooming
Health, diseases, vaccinations, vets.
Horse economics
Weekend 3: 
Gear and harnesses
Horse transport
General equipment and care
The economy of gear and equipment
Weekend 4:
Wagons, hitching and driving.
Loads and roads.
Safety and WHEN things go wrong
Future teamsters who have completed all four basic weekends can participate in our Seasonal Training Weekends:
Garden: Plows, harrows, hillers
Field: Mowers, tedders, spreaders
Woods: wagons, sledges, loading, dragging.
For pricing call toll-free: 1-877-689-2210