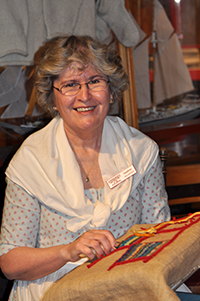 Working at both ends of the rug hooking spectrum, Heather Gordon is known as a heritage artisan and a contemporary fibre artist.  While stressing the importance of preserving traditional styles, techniques, and materials, she also designs and creates colourful and innovative multi-fibre pieces in her own studio.  Heather took her first rug hooking class in 1976 and has never found a more enjoyable or satisfying activity.  She tries to hook at least one piece in every new style she discovers and loves to add new techniques to her repertoire of hooking skills.
She is a member and former regional director of the  Rug Hooking Guild of Nova Scotia, a member and accredited teacher with the Rug Hooking Guild of Newfoundland and Labrador and a member of the Association of Traditional Hooking Artists.
In addition to organizing exhibits and hooking activities for Ross Farm, she demonstrates traditional Maritime hooking styles at the Fisheries Museum of the Atlantic in Lunenburg,  teaches workshops, designs original kits and patterns and enjoys hooking with a number of local and regional groups. 
Heather has participated in and organized many hooked rug exhibits in Nova Scotia, Newfoundland, and PEI.  Several of her pieces have been featured in guild publications and in Rug Hooking Magazine.
Rug Hooking Workshops
Sheep in a Box - September 15th
Hit and Miss Posy Mat - October 20th
Rosebank Cottage - November 3rd