We did it, thanks to you! Please join us to celebrate the official opening of the Learning Centre at Ross Farm on Saturday, May 7th for the ceremonial ribbon cutting, a heritage quilt exhibit curated by Polly Greene, hand-made Nova Scotia artisan wares in The Pedlar's Shop, as well as our traditional fun-filled Farm fare. Oh, and cake!
Help preserve Nova Scotia's rural heritage
Ross Farm is rightly described as a "Nova Scotian treasure." Since its creation by the New Ross community in 1969, generations of Nova Scotians have experienced traditional farm life and gone home with rich memories that last a life time.
We work closely with schools, local businesses, the Community College and the Agricultural College, and a host of diverse groups from Slow Food NS to Garrison Brewery. These successful partnerships have exposed the severe limitations of the Farm's facilities. We do not have the proper facilities to reach our full potential. There is a desire to learn about food, farming and heritage skills that we need to fill. 
To meet this need we are planning to build an exciting new Learning Centre. This modern 'green' building will permit us to grow existing programs and add many more, in ways that contribute to growing the economic and cultural sustainability of our rural community.
Our new Learning Centre Project is projected to cost $3,600,000. The three levels of government have pledged $2,100,000 and we are tasked with raising the remaining $1,500,000 to make our dream a reality. 
We are asking for your support.  Together, we can make this happen.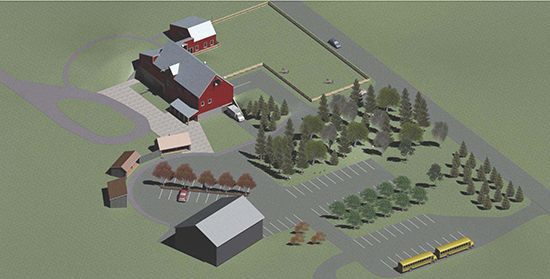 Support our Learning Centre!
Please take this opportunity to join us in this exciting project at Ross Farm. With your donation, together we can preserve Nova Scotia's rich agricultural history and build a 'Learning Monument'.
All donations of $100 or more will be recognized in the new Learning Centre. Donations under $100 will be recognized on a virtual donor wall on our website.
For more information please contact Joan Lenihan at: Toll free 1-877-689- 2210 or Joan.Lenihan@novascotia.ca
If you would like to mail your donation, please make cheques payable to "Ross Farm Museum Building Fund".
For our printable donor pledge form - click here
Send to:
Box #238 
Highway # 12
New Ross, NS B0J 2M0
If you would like to donate securities to Ross Farm, please click here 
(Donation goes through Canada Helps)
A Space for Education and Community
Public areas of the Learning Centre will include:
Accessible, dynamic visitor space with new facilities – including washrooms and cloakrooms.
Classrooms for ongoing school and educational groups – flexible space for workshop programs, encompassing rural leadership, sustainable agriculture and heritage skills preservation.
A working hearth, surrounded by a heritage kitchen, the centre core of the new building, backed by a fully functioning industrial kitchen.
Exhibition space for historical artifacts dedicated archive and research rooms.
With the building of our Learning Centre, the dream to fully dedicate the historical buildings on Ross Farm property to their original and heritage appropriate functions will be finally realized.
To see more preliminary drawlings of the Learning Centre - Click Here