Try rug hooking, join us for a 1-day workshop and create a beautiful hot pad with a traditional "Hit and Miss" background. No previous hooking experience is required.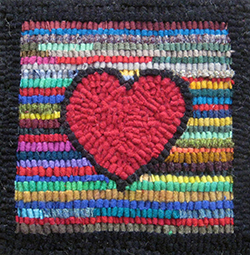 Date: Saturday, November 18th
Time: 9:30 a.m. to 4:30 p.m. (bring a lunch, please. No time allotted for going out for lunch)
Minimum 8, maximum 15
Registration deadline: Friday, November 10th, 2017
You will learn how to:
• Pull a perfect loop
• Determine the best height for your loops
• Space your loops correctly to avoid packing
• Hook straight lines, curved lines and neat square corners
• Learn three methods of finishing your project
The workshop fee includes:
• Expert instruction for hooking and finishing
• Use of a Ross Farm hook and hooking frame
• Coffee breaks
Course - $50.00+tax- Heather Gordon instructing Heart kit - $50.00+tax
If you wish to continue hooking on your own, frames, hooks and additional patterns can be purchased at the Pedlar's Shop. You are welcome to join us for our winter Sunday hook-ins.
Registration Form - Download